Strategies
Strategies allow us to have a plan of action to achieve a long-term or overall aim. This is the same in all areas of life, whether it be to get a new job, to buy a house or to support our mental wellbeing.
Having a variety of different strategies when it comes to mental wellbeing means you are more likely to find one that works for you when you need it most.
In this section you will find a number of different strategies and worksheets to help support you in times of need. We will be updating and adding new strategies into this section so please keep coming back and checking out what is new.
Grounding Techniques
Grounding is a practice that can help you pull away from negative or challenging emotions. These techniques may help distract you from what you're experiencing and refocus on what's happening in the present moment.
Visit Website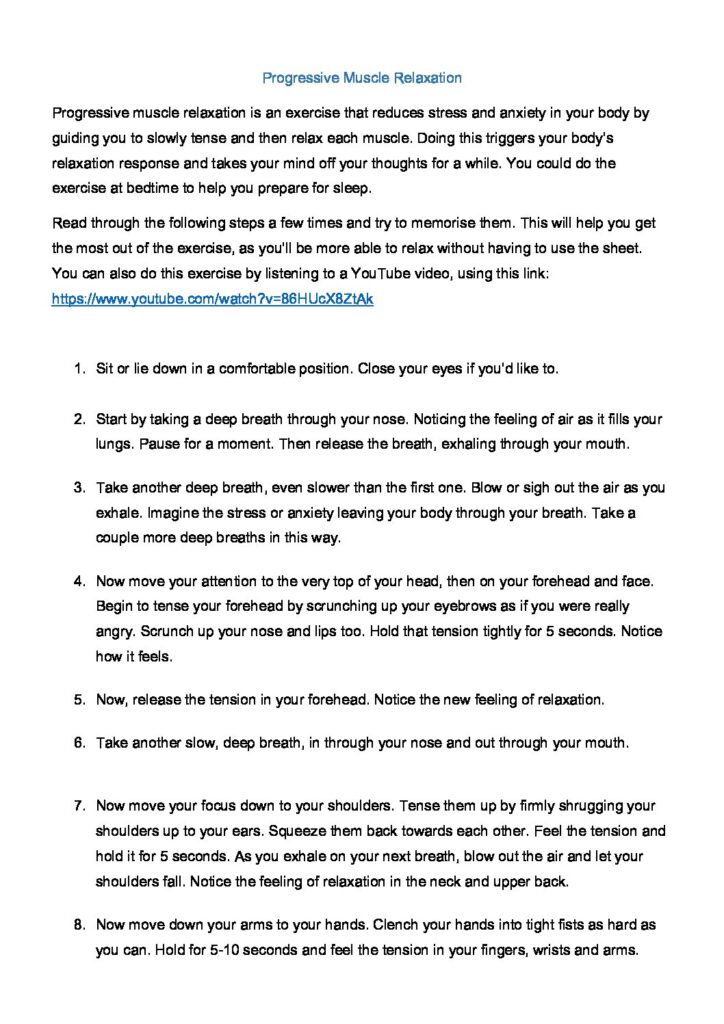 Progressive Muscle Relaxation
Progressive muscle relaxation is an exercise that reduces stress and anxiety in your body by guiding you to slowly tense and then relax each muscle.
Visit Website
"What will I say to myself?" Cards
Write one phrase or sentence on each card. Think of things that help you to feel calm, comforted and more positive. These could be quotes, song lyrics or any phrases that are meaningful to you. It might be helpful to think about what you would say to a friend if they were in your position. Print, cut them out and keep these cards with you to read through when you feel distressed and need some support.
Visit Website
For strategies to work, we must go into using them with a growth mindset and not a fixed mindset. Whilst they might not work instantly and we might find some of the techniques hard at first, with practice and a growth mindset in time you will find a handful of different techniques that you can draw on when you need them.
If you still feel there is nothing here to help you please speak to a member of the Wellbeing team for help in finding a strategy that will work for you.
Lots of students get support from their school when they're going through a tough time. Young people can speak to anyone working in school about anything that's bothering them, whether it is school-related or something different. At Trinity Academy Grammar, we are happy to offer our students a range of emotional health and wellbeing services.
Further Help
If you are struggling to cope on your own and you need support, there are people in school who you can talk to, in a safe and non-judgemental environment. Our wellbeing team offers two types of in-school support, including 1:1 support sessions with a Child Protection and Wellbeing Officer and 1:1 counselling sessions with a School Counsellor. If you'd like to know more about in-school support, speak to your Year Leader or email tag-wellbeing@grammar.trinitymat.org.